Awareness program on Health & Hygiene and Free Health Camp
21/09/2023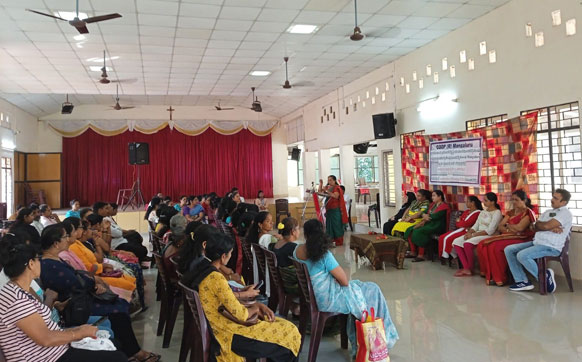 Pragathi Mahasangha of CODP® Mangaluru, Sthree Sangatan Moodbidri, Jewels organization Mangaluru, Caritas India New Delhi and Health Center Moodbidri jointly organized a training program on health and hygiene and organized free health camp at Corpus Christi Church Hall Moodbidri on 6th December 2022.
Mrs Margaret, President of Pragathi Mahasangha welcomed the guests and other participants.
Mrs Lydia Moras, Coordinator CODP; Mrs Shilpa D Souza, Coordinator of SPARSHA; Mrs Ida Menezes, Vice President of Sthree Sangatan Moodbidri; Mr Praveen Lobo, President of Jewels organization; Dr Chithra, Health center Moodbidri; Dr Shahanaz from Ayurvedic department and Dr Anitha from Homeopathic department were present on the dais.
Mrs Lydia explained the importance of health. She encouraged the people to take advantage of free health camps and various other facilities that is provided. Ms.Shilpa spoke about various types of Cancer affecting people and the importance of getting health chech-up atleast once a year. The doctors and other dignitaries too gave their views on health and hygiene.
Total 75 people who attended the camp underwent general check up and were given prescribed medication immediately.
Mrs Jacintha, Vice president of Sthree Sangatan compered the programme and Mr.Antony Nazreth, Animator CODP, proposed the Vote of thanks.