Felicitation to newly Elected Members of Grama Panchayath
21/09/2023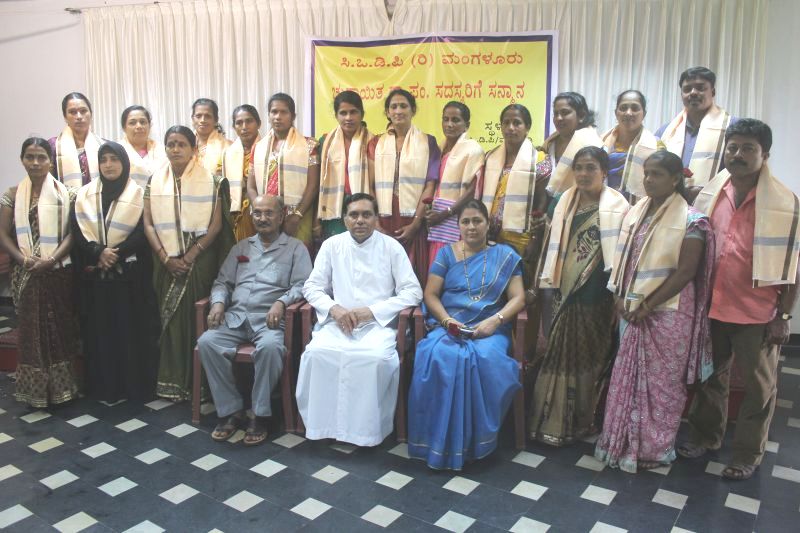 The newly elected Grama Panchayath members from CODP promoted SHGs (Self Help Groups) were felicitated on 26th July 2015 at CODP, Mangaluru.
Mrs. Jacintha Alfred the Mayor of Mangalore City Corporation who felicitated the newly elected members said that "People would like to see their representatives to deliver services.  If they find you approachable and responding to their beck and call, they would support you always irrespective of caste or creed."
CODP'S SHG MEMBERS ELECTED TO GRAMA PANCHAYAT IN JUNE 2015
Mr. Shirthady William Pinto, the well-known Social Activist and Lawyer congratulated the members and advised them to get into business immediately by visiting the families in the ward to ascertain the problems and needs of the people.  He also requested them to make their tenure a fruitful one.
Fr. Oswald Monteiro, the Director of CODP, expressed his happiness at the success of 27 GP members from CODP promoted SHGs.  He said "CODP promotes leadership among SHGs.  People would remain grateful to you for all the selfless services you render.  However, serve the people without any discrimination and without any expectation."
Mr. Sujan Crasta, the co-ordinator of CODP, introduced the newly elected 27 Grama Panchayath members during their felicitation.  Mrs. Rita D Souza, the Co-ordinator of CODP compeered the programme and Mrs. Puspaveni, the Animator of CODP proposed the Vote of thanks.  Earlier Mrs Shanthi and team led the prayer and Mr. Ravi Kumar Crasta welcomed the gathering.