The C of Christmas
21/09/2023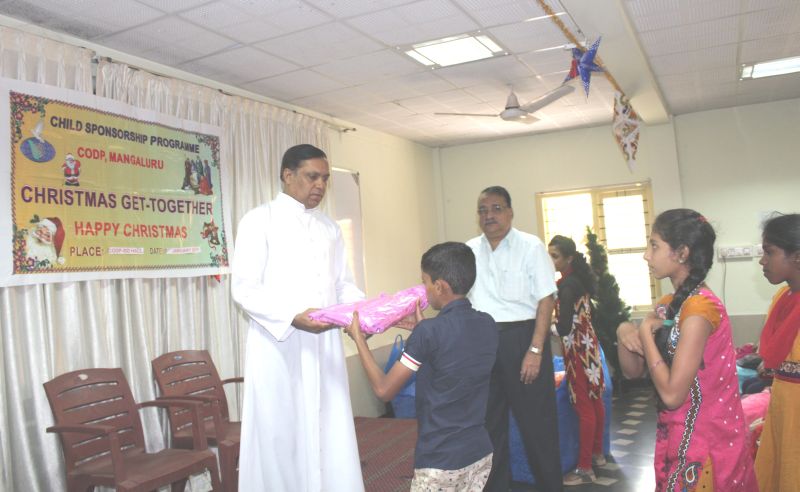 "As Christmas draws near children enthusiastically think of Clothes, Crib, Cakes, Carols and Cards.  But the most important 'C' which one tends to remember last is that Christmas is; celebrating the birth of Christ Child Jesus – Our Lord and Saviour".
In order to convey the true meaning of Christmas to children sponsored under CODP's Child Sponsorship project, Christmas get-together was organized by CODP from 27th Dec.2016 to 1st Jan.2017 at Kumbla, Belthangady, Moodbidri, Puttur and CODP, Mangaluru.
In all these centres, the programme commenced at 9.30 a.m. with a prayer conducted by the staff and the beneficiary students. The beneficiary children who attended the programme were provided with breakfast as they arrived from far-off centres.
During the Christmas message the children were reminded about the real meaning of Christmas, the spirit of sharing and caring for each other, about their sponsors and also their obligation towards the sponsors, the society, family and self.  Instructions about letter writing, annual progress information, contact details etc.
This was followed by a talk on various government schemes available to minorities, how to avail them, what are the documents to be submitted, and various other details, which was conveyed by CODP animators to all who attended the programme viz. children, students and their parents.
Before leaving for home each child was presented with a gift-wrapped bedsheet, two pillow covers and a turkish bath towel.