Food Security and Livelihood Improvement
21/09/2023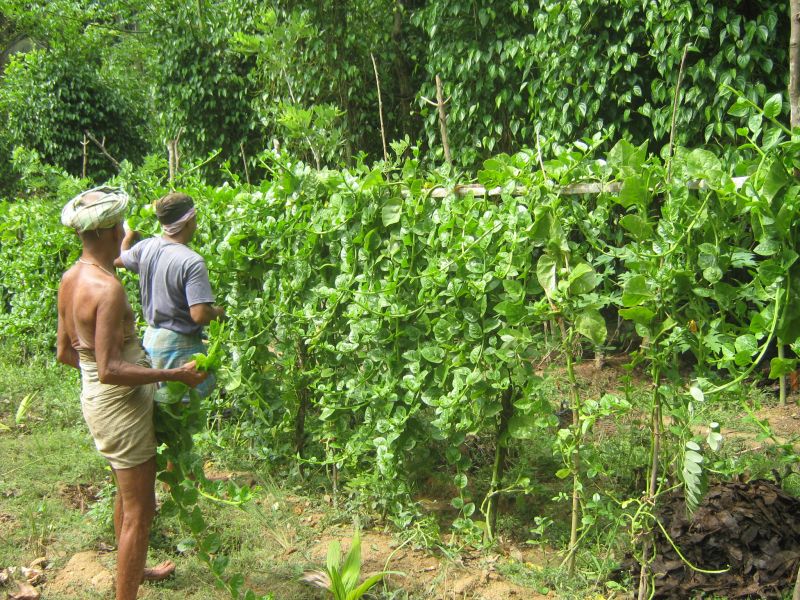 Increasing population pressure and higher demand for food and fodder have led to the use of modern methods in cultivation, Traditional skills of water management and food grain production are replaced by quick yielding methods and use of chemical fertilizers. This has resulted in deterioration of soil fertility and bio-degradation.
Target Area:
Nirmarga village in Mangalore Taluk of Dakshina Kannada District
About Nirmarga:
Nirmarga village is about 9 kms from Mangalore, the taluk headquarters of DK District. It consists of 20 hamlets with a population of over 9500. Though the area receives good rainfall, it faces a number of water management problems due to its sloped terrain, land use and population pressure. Acute drinking water scarcity, low yield of crops, lowering of water table and rapid discharge of rain water from the lands into streams are the leading problems.
In order to promote sustainable food productivity and improve the livelihood of the people of Nirmarga the above cited project, covering 100 acres land, was drawn up.
Goal:
Prompting peoples action for judicious use, development and management of natural resources leading to an enriched community with bounty of water, food and peace.
Objectives:
To bring an awareness on ecological balance
To ensure water for drinking-domestic-irrigation throughout the year
To sustain the agricultural productivity
To ensure livelihood of the landless inside the village.
Awareness-Training conducted:
32 Awareness/Training programmes were conducted on project implementation, water/soil management, Self Help Groups, book-keeping, leadership skills, etc. Around 750 SHG members, community people and farmers participated
3 IGP trainings conducted on candle making, bee-keeping and tailoring. In all, 127 people have benefitted.
10 farmers were taken on an exposure visit to Varanasi organic farm at Adyanadka
Achievements:
20 Self Help Groups are formed with 255 members
Savings by the members is Rs 531,913/-
One Village Development Committee is formed.
The members meet periodically, discuss related issues and also supervise the watershed works in the project area.
For Soil & Water conservation – 2200 trenches are done in 74 acres, 83 gully plugs, 15 farm ponds, 54 percolation pits and 2 tanks and 15 drinking water wells renovated
27 varieties totaling 1142 fruit and herbal medicinal plants are distributed.
For sustainable organic farming – 20 vermi composting units, 12 Jeevamrutha and 26 bio-pesticide units are set up.
2 SHGs have come forward to start IGP in candle making, 14 members were given bee-keeping boxes and have started producing honey, and 13 members have purchased sewing machines and started earning through tailoring.
Reference:
For detailed information on the project partner kindly refer
Andheri Hilfe Bonn website: http:/www.andheri-hilfe.de/
Andheri Trust Mangalore website: www.adcindia.org